I worked almost exclusively on the Ford account at Razorfish, but have joined other projects along the way. Razorfish has been fantastic. I've taken my writing to new directions (hello UX!), and expanded my skill set into the big, bad, fascinating world of content strategy. Here are a few project highlights.
Ford Owner SYNC 3 launch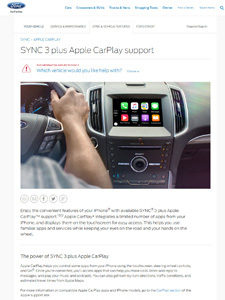 I wrote articles for the Ford Owner site to support the launch of SYNC 3, Ford's in-vehicle navigation and entertainment system. SYNC 3 is also the foundation for Ford's connected vehicle initiatives, so this content was really interesting to write.
The articles I wrote covered topics such as getting directions, and how to use Apple CarPlay and Andriod Auto. A lot of work went into these: I had lots of mind-bending conversations with engineers and subject matter experts, and had to translate their concepts into content for a radically less-technical audience. After they were published, it was really gratifying to see that my articles received high helpfulness ratings and solid traffic from site visitors.
Ford Owner mobile app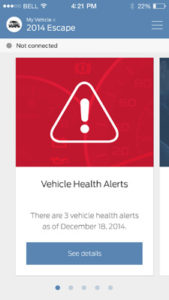 I joined the mobile team as the content lead for the Ford Owner mobile app project, which adapted content and features from the Ford Owner site to a mobile audience.
I wrote copy for the app itself, and related support articles about the app's new vehicle health features. I also developed my content strategy muscles: I created a mini-taxonomy, site map, and made sure the app's copy and style followed the Owner site's standards.
This project was a blast. I was part of an incredible team of developers, designers, functional analysts, and QA colleagues. We used an Agile methodology to hit all milestones. I really liked our process—it saved us a lot of time and agony with all the changes that are part of any development project. Agile kept us on track, and we launched the app just in time for Christmas, 2015.
Lincoln Owner site content
I also worked on a fair amount of projects for Lincoln, and loved it. Why?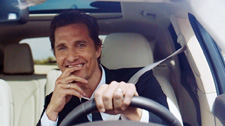 Matthew McConaughey was my muse.
For each and every Lincoln project I imagined that my content—the very words I wrote that were ultimately published to the owner.lincoln.com site—helped Mr. McConaughey use the MyLincoln Mobile app, or get a little more information about the embedded modem, so he could find his way back home to unload his fanny pack, fire up his bongos, and groove on into the starry Texas night.
Here are some of the projects he inspired:
MyLincoln Mobile (MLM) app articles: I wrote a general overview, and other how-to articles on the app's remote features.
Lincoln Embedded Modem landing page: Watch out, connected vehicles! When embedded modems started rolling off dealer lots in early 2016, I wrote a campaign landing page that informed owners how modems would work with the MLM app.
Site copy and interactive elements: I worked with the Creative and UX teams to develop copy for functional flows, landing page touts, and other interactive copy as needed.