Dot.com crazy calling! Some context: In 1998, the fun agency I originally worked for was acquired by a dull hosting company, which was then acquired by a boring phone company—Qwest.
We were renamed Qwest Interactive. Our mission? To help companies expand their traditional dial-tone and networking footprint into edgier internet branding strategies. Or something like that. We all knew it made no sense, but this was pre-bubble, and it was a blast while it lasted.
direct mail campaign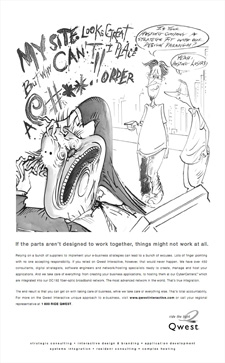 I worked on a ton of projects, the most memorable being the integrated direct mail campaign we did with J. Walter Thompson, Qwest's agency at the time. We needed to break into new markets, so our agency got a list of targeted businesses and mailed them sleek silver boxes with a cut-out spot for a digital camera. Sales followed up with these customers, and if their customers took a meeting, arrived with camera in tow.
The campaign launched on time and was a huge hit. Bribing people with cameras was very effective: after we ran the numbers, we realized the campaign paid for itself three times over. (Side note: My boss ran the numbers and said it had an ROI of 300%, but I couldn't back that number up in a court of law.) The ad is the only remaining evidence I have of the campaign, and while I didn't write the copy itself, I did help JWT fine-tune it.
website and sales collateral
QI made a splash, and for a shooting-star moment, we were the focus of Qwest corporate's sales efforts for 2001. I was working with the corporate marketing department on other integration-type projects. I wrote copy about QI's offers for the corporate website, and also wrote some sales collateral. In due time QI was shut down and we were all sent off with severance packages, but it was loads of fun while it lasted.