marketing & sales campaigns
Monster was a fun brand to write for! New stuff popped up every day, and I worked on all kinds of marketing / demand generation campaigns and sales enablement projects during my tenure. Highlights included:
Wrote signage, collateral, and other such copy for trade shows and events.
Became a camera person! I traveled to events to shoot video, and worked with the video team to turn the footage into fun sales enablement projects.
Worked with product marketing to write internal sales communications that supported new promotions and product launches.
Got my friends addicted to the espresso at the coffee shop in downtown Maynard.
local sales kit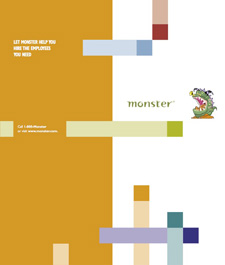 I was initially brought in to write content for a localized sales kit. Monster's enterprise sales team was extending its reach into seven industries in 24 markets, and needed marketing materials to support their business development efforts. I joined an incredible creative team and off we went: we had three months to produce more than 170 pieces of content. This project was our team's Sgt. Pepper. It looked fabulous, had useful info for each market, and was produced on time—we hit our deadline with a couple of days to spare. Our creative team won a Hatch Merit Award for our efforts but best of all, it helped sales break into new markets and close business.
email campaign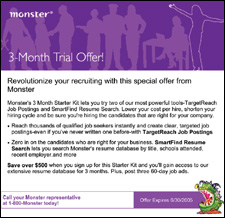 The local kit spawned a ton of follow-on projects, one of which was an email campaign. This campaign promoted job posting products directed at enterprise customers. The deadline for this was really tight—I had to write a first draft of all seven emails in one day—but I had a good foundation to work from, and a great product team who provided clear direction. I liked the way these turned out. The copy and overall design blended seamlessly with the local kit, and again, the sales team was happy with the results.