data erasure campaign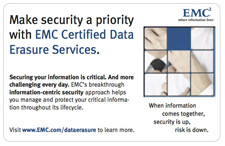 My first stop at EMC was on the customer services marketing team; I was hired to write product launch materials. The work was tres corporate but we still had fun. This sample includes what I produced for the Data Erasure product launch. I wrote internal briefs for the sales team, a customer-facing presentation, product briefs, and a few direct mail postcards promoting different aspects of the product. Post-launch I followed up with sales and wrote internal sales wins that showed other reps how a deal was closed.
customer success story program
After product marketing I worked on the Customer Success Story program. I wrote customer profiles, case studies, customer profiles, internal sales wins and other articles. It was a difficult but rewarding area to work in: it takes a lot of work to find a customer willing to help you write a win (they get nothing from it, and often don't want to—or can't—discuss the issue you helped them solve), but when you find them, the result is fantastic.
I started on the Global Services marketing team, and later launched this program for the newly-formed Solutions marketing division. Highlights included:
SWR: Customer profile for a German Broadcast company. I worked with the German sales team to write it and get it approved; and all involved were very gracious and helpful during the entire process.
"Recession selling" article: It was 2007/8, and the bad economy vibes were headed our way. I thought it'd be helpful to give newer reps some advice on how to sell in a crappy business climate. My pitch was accepted, and I went on to interview some of EMC's tenured reps on how they sold when times got rough.