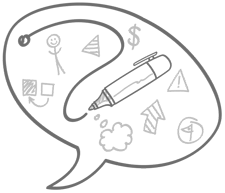 I cut my teeth on corporate storytelling during my tenure as a content consultant at Corporate Visions. I partnered with a facilitating consultant to run messaging workshops where, over the course of two days, we'd work with clients to create messaging for their corporate positioning, product, or anything in between.
When the workshop was over, I was responsible for creating the project deliverables, which included writing a core messaging document, and scripting storyboards and developing visuals for customer-facing whiteboards.
The job was fascinating. I was fortunate to work with clients from all types of organizations, and this exposure has given me just enough knowledge to be dangerous in many industries.
Most of the work we did was internal, but I did have a workshop for a triathlete coaching company that used our whiteboards on their site to show people what their training program was all about. That was one of my favorite workshops, and it was really rewarding to see the videos live on their site. Other highlights:
Messaging the physics behind cell phone towers to C-level executives and their staff.
Finally understanding golf.
Deciphering Index Funds.
Learning why you should always, ALWAYS, repair a leaky faucet in your home.